USS Diodon (SS-349) Home Port
Updated 07-07-17

Dives to Date
since 09-27-01

A view into history with a USN Submarine and its crew

Welcome to the USS Diodon site - dedicated to the USS Diodon (SS-349), and her fine crews over the years from her birth to her demise to razor blades.

Bless those who serve beneath the deep, Verse 2 of Submariner Version of Navy Hymn: Through lonely hours their vigil keep. May peace their mission ever be, Protect each one we ask of thee. Bless those at home who wait and pray, For their return by night or day.

The Seventh verse of the Navy Hymn is for Submariners: Lord God, our power evermore, Whose arm doth reach the ocean floor, Dive with our men beneath the sea, Traverse the depths protectively. O hear us when we pray, and keep Them safe from peril in the deep.

Name: USS Diodon
Builder: Electric Boat Company, Groton, Connecticut[1]
Laid down: 1 June 1944[1]
Launched: 10 September 1945[1]
Commissioned: 18 March 1946[1]
Decommissioned: 15 January 1971[1]
Struck: 15 January 1971[1]
Fate: Sold for scrap, 12 May 1972[1]

New 07-07-17




General characteristics
Class and type: Balao-class diesel-electric submarine[2]
Displacement:
1,526 tons (1,550 t) surfaced[2]
2,424 tons (2,463 t) submerged[2]
Length: 311 ft 9 in (95.02 m)[2]
Beam: 27 ft 3 in (8.31 m)[2]
Draft: 16 ft 10 in (5.13 m) maximum[2]
Propulsion:
4 × General Motors Model 16-278A V16 diesel engines driving electrical generators[3][4]
2 × 126-cell Sargo batteries[5]
4 × high-speed General Electric electric motors with reduction gears[3]
two propellers [3]
5,400 shp (4.0 MW) surfaced[3]
2,740 shp (2.0 MW) submerged[3]
Speed:
20.25 knots (38 km/h) surfaced[6]
8.75 knots (16 km/h) submerged[6]
Range: 11,000 nautical miles (20,000 km) surfaced at 10 knots (19 km/h)[6]
Endurance:
48 hours at 2 knots (3.7 km/h) submerged[6]
75 days on patrol
Test depth: 400 ft (120 m)[6]
Complement: 10 officers, 70–71 enlisted[6]
Armament:
10 × 21-inch (533 mm) torpedo tubes
6 forward, 4 aft
24 torpedoes[5]
1 × 5-inch (127 mm) / 25 caliber deck gun[5]
Bofors 40 mm and Oerlikon 20 mm cannon

New 07-07-17


General characteristics (Guppy II)
Class and type: none
Displacement:
1,870 tons (1,900 t) surfaced[7]
2,440 tons (2,480 t) submerged[7]
Length: 307 ft (93.6 m)[8]
Beam: 27 ft 4 in (7.4 m)[8]
Draft: 17 ft (5.2 m)[8]
Propulsion:
Snorkel added[7]
Batteries upgraded to GUPPY type, capacity expanded to 504 cells (1 × 184 cell, 1 × 68 cell, and 2 × 126 cell batteries)[7]
4 × high-speed electric motors replaced with 2 × low-speed direct drive electric motors[7]
Speed:
Surfaced:
18.0 knots (20.7 mph; 33.3 km/h) maximum
13.5 knots (15.5 mph; 25.0 km/h) cruising
Submerged:
16.0 knots (18.4 mph; 29.6 km/h) for ˝ hour
9.0 knots (10.4 mph; 16.7 km/h) snorkeling
3.5 knots (4.0 mph; 6.5 km/h) cruising[7]
Range: 15,000 nm (28,000 km) surfaced at 11 knots (13 mph; 20 km/h)[8]
Endurance: 48 hours at 4 knots (5 mph; 7 km/h) submerged[8]
Complement:
9–10 officers
5 petty officers
70 enlisted men[8]
Sensors and
processing systems:
WFA active sonar
JT passive sonar
Mk 106 torpedo fire control system[8]
Armament:
10 × 21 inch (533 mm) torpedo tubes
(six forward, four aft)[8]
all guns removed[7]

New 07-07-17

USS Diodon (SS-349)
1 June 1944 to 15 January 1971

Diodon was decommissioned on 15 January 1971 and stricken from the Naval Vessel Register the same day. It was sold for scrapping on 12 May 1972.
A Sailor's Christmas
'Twas the night before Christmas, the ship was out steaming,
Sailors stood watch while others were dreaming.

They lived in a crowd with racks tight and small,
In a 80-man berthing, cramped one and all.

I had come down the stack with presents to give,
And to see inside just who might perhaps live.

I looked all about, a strange sight did I see,
No tinsel, no presents, not even a tree.

No stockings were hung, shined boots close at hand,
On the bulkhead hung pictures of a far distant land.

They had medals and badges and awards of all kind,
And a sober thought came into my mind.

For this place was different, so dark and so dreary,
I had found the house of a Sailor, once I saw clearly.

A Sailor lay sleeping, silent and alone,
Curled up in a rack and dreaming of home.

The face was so gentle, the room squared away,
This was the United States Sailor today.

This was the hero I saw on TV,
Defending our country so we could be free.

I realized the families that I would visit this night,
Owed their lives to these Sailors lay willing to fight.

Soon round the world, the children would play,
And grownups would celebrate on Christmas Day.

They all enjoyed freedom each day of the year,
Because of the Sailor, like the one lying here.

I couldn't help wonder how many lay alone,
On a cold Christmas Eve on a sea, far from home.

The very thought brought a tear to my eye,
I dropped to my knees and started to cry.

The Sailor awakened and I heard a calm voice,
"Santa, don't cry, this life is my choice."

"Defending the seas all days of the year,
So others may live and be free with no fear."

I thought for a moment, what a difficult road,
To live a life guided by honor and code.

After all it's Christmas Eve and the ship's underway!
But freedom isn't free and it's sailors who pay.

The Sailor say's to our country "be free and sleep tight,
No harm will come, not on my watch and not on this night."

The Sailor rolled over and drifted to sleep,
I couldn't control it, I continued to weep.

I kept watch for hours, so silent, so still,
I watched as the Sailor shivered from the night's cold chill.

I didn't want to leave on that cold dark night,
This guardian of honor so willing to fight.

The Sailor rolled over and with a voice strong and sure,
Commanded, "Carry on Santa, It's Christmas, and All is Secure!"

HONOR, COURAGE AND COMMITMENT

Submarine, USS Diodon, SS 349, Keel Laid, Jun 1, 1944
<![if !vml]>
<![endif]>
USS DIODON SS-349 Naval Cover 1944 SPADER Cachet
<![if !vml]>
<![endif]>
NAVY USS DIODON SS-349 SUBMARINE CHALLENGE COIN
<![if !vml]>
<![endif]>
F
rom: DAVID FRANKS [mailto:franksmm@bellsouth.net]
Sent: Friday, April 11, 2014 10:56 PM
To: subvettmss@gmail.com
Subject: Postal cover from USS DIODON SS349

Going through some files and found this postal cover form the Diodon. Thought someone might want to have it. My first boat was the Theodore Roosevelt SSBN 600 Gold. Never saw any postal covers from any of my boats. It is an interesting item.

David Franks
MMC (SS) USN -RET

"When the people fear their government, there is Tyranny; When the government fears the people, there is Liberty." Thomas Jefferson
(New 05-22-14)
Clipping from Mare Island Naval Shipyard 29, Jan. 1971 edition of the Grapevine showing the decommissioning ceremonies aboard
Diodon

(SS-349)
at the yard.

Photo courtesy of Darryl Baker.
(New 06-04-11)
From: Bill Weber [mailto:bweber60@gmail.com]
Sent: Monday, May 27, 2013 10:54 AM
To: subvettmss@gmail.com
Subject: Do you know the whereabouts of Tom Voekel
Hi James,
Tom Voelkel was on the Diodon with me 1969 through decommissioning. He stood up for my wedding but I have had no contact with him since!
He is pictured on the after deck of the decommissioning photo you have posted. Wondering if you have any contact info for him?
Thanks,
Bill Weber
President/Owner
Luxury Bath/Mobility Remodelers
Office: 708-447-4647
Mobile: 630-878-9368
www.mobilityremodelers.com
<![if !vml]>
<![endif]><![if !vml]>
<![endif]>
(New 05-27-13)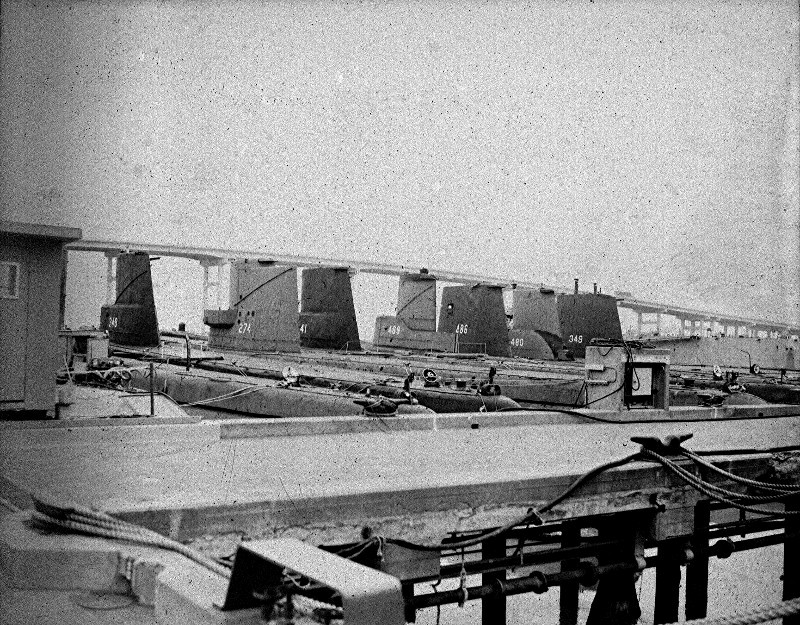 Last known picture of the USS Cusk
The Cusk is shown in mothballs at Mare Island. This picture was taken
30 April 1971, two years after her decommissioning and one year before
she was sold for scrap. Other boats shown to the to right of the Cusk
are the USS Rock (SS-274), USS Bashaw (SS-241), USS Spinax
(SSR-489), USS Pomodon (SS-486), USS Medregal (SS-480), and
USS Diodon (SS-349)
(Photo courtesy of NavSource.org website)
(New 12-26-12)
A U.S. Navy Grumman S2F-3 Tracker assigned to Carrier Anti-Submarine Air Group 57 (CVSG-57) aboard the aircraft carrier USS Hornet (CVS-12) flying over the submarine USS Diodon (SS-349). Hornet, visible in the right background, was deployed to the Western Pacific from 6 June to 21 December 1962.